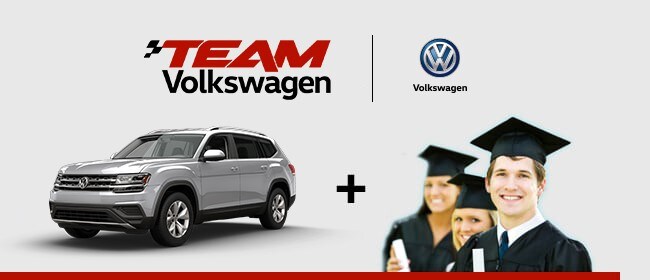 Compliments of the Real World.
Congratulations! Graduating college is an achievement worth rewarding. Our College Graduate Program* is designed to help you buy or lease a new Volkswagen.
Program Highlights
When you buy or lease through Volkswagen Credit, VW will make your first month's payment - Up to $800. 
If you lease, there's no security deposit required. Competitive rates even if you have no credit. 
Credit history is not required, but if you have existing credit, it must be in good standing.
No co-signer required.
You've just finished four years (more or less) of hard work. You deserve to continue your journey in a VW.
Get Started
To get started, visit Team Volkswagen to apply. You'll need to meet the following requirements*:
You graduated in the past 24 months or will graduate in the next 6 months from an accredited US or Canadian College.
You have a full-time (permanent) job or have a written commitment from your future employer.
You have received credit approval from Volkswagen Credit
When you visit Team Volkswagen you'll need to provide:
A copy of your degree or transcript and contact information for your college or university.
A copy of proof of income and full-time (permanent) employment as well as a name and phone number for a contact in human resources or payroll.
Contact information for two (2) personal references. One must be a relative. Ask Team Volkswagen for full details.
*College Grad program is subject to credit approval and is available to U.S. citizens or permanent residents who are within 6 months of graduation or have graduated from a two-year or four-year U.S. or Canadian accredited college no more than 24 months prior to credit application. Applicant must be employed in a full-time permanent position or have a written commitment from a future employer and provide proof of income. Credit history is not required but existing credit must be in good standing and have no previous derogatory credit. Volkswagen of America, Inc. (VWoA) will cover the first month's payment up to $800, for new, unused or near new Volkswagen models. Customer is responsible for any payment amount over $800. Certified Pre-Owned Volkswagen models do not qualify. Must lease or finance through Volkswagen Credit to be eligible for this offer. Can't be combined with any other first payment programs. First month's payment offer expires on January 5, 2017.